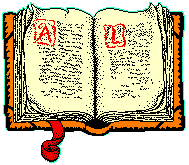 Click on book for "Life in Ancient Times" - a selection of "diaries" written by two groups of Stonemasons - well worth a look!
"The Storyteller" DIY Lesson Plans
All activities (except the Limerick practice) are available as "printables" or on-line

Lesson plan includes ideas for Aims and Learning Outcomes
If you like these Lesson Plans but would like more advice on using them effectively, visit www.storyteller.me.uk and find out how he can help!
One Step at a time!

1.
Click for the Lesson Plan (you can work straight from the Word Document if you prefer) and print out.
2.
Click for an ever increasing selection of Grammar/Punctuation activities (including explanation and practice for each)
3.
Click for a large selection of short tales and related comprehension activities - they were created for "those who do not enjoy reading" but do work with all ages and abilities!
4.
Click for a Story Creation Lesson Plan, for a student plan or for the complete package!
5.
Click for an introduction to Limericks and links for students to practise and create their own.
6.
Click for a selection of Storyteller tales. These may provide a welcome five minutes relaxation at the end of a hard lesson or could be used with the complete lesson plans using Blooms Taxonomy.