| | |
| --- | --- |
| Everything you need to put a lesson together at short notice! | Students need to give a short talk? Click on me for a cunning plan! |
By the Pricking of My Thumbs (something wicked and some just "dark"!)

We have had very positive results with our readers after a full term using these activities - 98% improved either their reading age, spelling age or both - in KS3 such results are quite difficult to maintain so results at the end of the Spring Term are now all important - watch this space!

For information and advice on how to deliver these lessons, click on the cat below: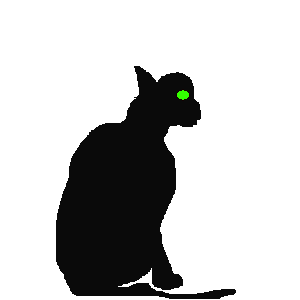 Please vote here for your favourite
More lessons will be added as and when they are prepared (!!)
They are presented either as on-line activities or as printable sheets
Print off a "recap" tale covering the first 6 sounds
A little lesson to show the importance of describing words etc!
Clementine and the Clucking Voice
(or the one where he meets Francis Frogwatcher!)
If you have a tale of your own, or ideas for a tale, please send me (Penny) an e-mail by clicking on my name below - the more ideas/contributors we get the better (and your name too can go up in lights!)
Contributors
Caroline Esteve
Fiona Raynes
Jan Sear
Barbara Sergison